Using MAMP for Easy Local Installation of WordPress on Mac
Wondering how you can install WordPress on your Mac locally using MAMP? The first step towards the installation is the downloading of MAMP on a MAC device. Some onscreen instructions will be displayed followed by the rest of the procedure.
To ensure a better time using MAMP, launch 'Preferences' and click on the tab 'Ports'. Enter the value '80' in the Apache Port. This value will direct you to http://localhost and therefore each time you wish to use MAMP, it will demand a password.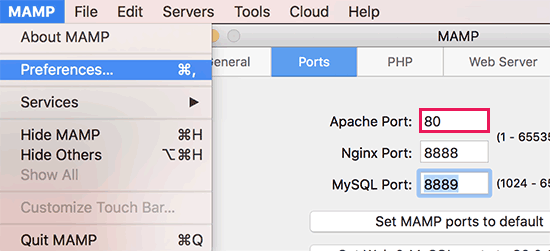 Now create a folder to store your files by clicking on the tab of Web Server and choose the folder for storing your websites. The best way is to store one website in a single folder, which is a part of the Documents folder.
WordPress installation on MAC
You can easily find the file for WordPress at WordPress.org. Download the file and unzip it. Now copy the folder of WordPress and head over to the MAMP document root folder to paste it. Rename the file and prepare to launch a database for the file before the installation of WordPress.
Open the MAMP application window and click on 'Open Web Start Page', a browser window will pop up. You'll see a tab there named 'phMyAdmin' in the options of Tools. Once in the phMyAdmin, create a new database by selecting 'Database' and renaming it. phMyAdmin basically manages the MySQL databases, which is an application built on the web.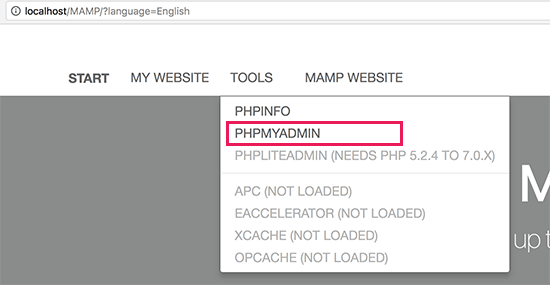 To install WordPress, visit http://localhost/mysite and click on WordPress. The WordPress wizard will pop up in which you have to choose the language and then on the next page click on 'Let's go' to proceed with the installation. You will now enter your username and password (created by you earlier) for which 'root' will be used while 'localhost' will be used for the database host. Continuing the installation, a configuration file will be generated for you and you will be connected with your database followed by a success message. To move forward, click "Run the installation" button.
Now provide your website information in the form including username, password etc and leave WordPress to install. Once WordPress has been installed, you can easily access it locally.
The Purpose of Using WordPress Locally
This practice will help you create your own website from scratch on your computer. You can easily try different themes for WordPress, essential WordPress plugins and learn to generate your themes and plugins through programming.
To make your site visible to the spectators, move your site to a live website. The address of the website will be called 'domain name' whereas 'web hosting' will be the location that stores all your files.
If you want to work with the best host worldwide, then opt for Bluehost. This is the official hosting partner of WordPress and is quite a popular hosting option!