How to Add Social Media Icons to WordPress?
A Simple Guide to Kick Start Your Social Media Journey
The world is turning towards social media whether it is to share their special moments or promote their home-based business, so why should you remain behind? Adding social media icons to your WordPress website is essential to boost customer interactions. However, it does not come easy to many new entrepreneurs and home-based users, but this step-by-step guide will make the whole process a breeze.
WordPress does not offer a section for social media profiles, but it does offer tools in its navigation menus to display and add social media icons in specified areas. Let us start with why you need social media integration:
Why Add Social Media Icons?
Billions of people turn to popular social media websites like Facebook and Twitter to network with friends, celebrate birthdays, share their achievements with the world or just blow off steam after a bad day at work, but you can use it to your advantage as well.
Adding social media icons to menus allows you to change their order, thanks to the flexible drag and drop interface. You can even use 3rd party plugins to populate the sidebar but most tools are not flexible, and hence you will find yourself doing a lot more than what you signed up for.
Apart from adding the icons to WordPress menus, you can use a widget-ready area, including the sidebar, posts, footer area, on your website to make it look sleek and smartly placed. In the end, what you will get is a website ready to lure in your visitors and keep them engaged with your social media profiles (We have provided you the tools but it ultimately depends on how you run your social media campaign).
The Road Map to Adding Social Media Icons to WordPress Menus
Here is what you need to do:
#1 – Install and activate the plugin of Menu Image.
#2 – After activation, visit the "Appearance" tab and click on the "Menus" page. Once you are there, create a new menu.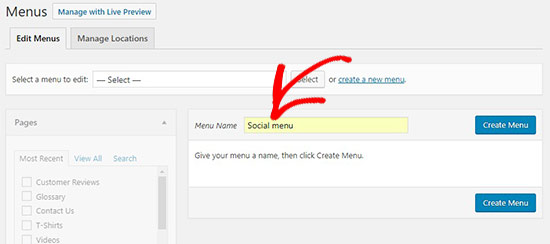 #3 – Add custom links to your social menu separately, for each social media channel. So, for instance, you need all three social media icons on your page, i.e. Facebook, Twitter and Instagram, so you will have to add a separate link to the menu for each.
#4 – Upload a social media icon for every social media website you want to integrate. You will find a menu image button under each menu item. You can hover with the main icon image to display or upload a different icon.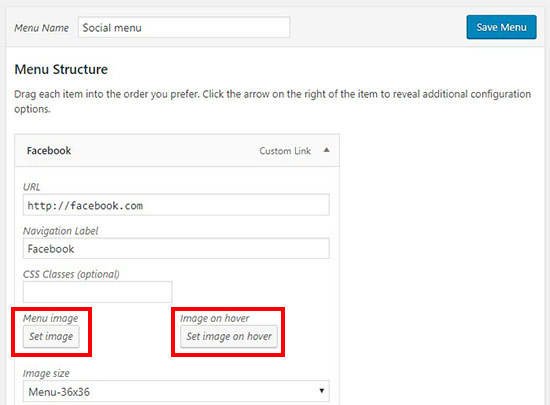 #5 – You can even resize the social icons. You will find multiple options for image size.
Hint: Just make sure you keep the same size for all social menu icons so to make the menu appear organized.
#6 – You can also display the name of each social icon, or you can also choose to hide the label by selecting the "Hide" option under the Title Position.

#7 – Now you need to select the location where you will display the social menu. Once you are done, click on the "Save Menu" button.
#8 – Adding your social icons to a WordPress sidebar is a piece of cake too. Just click on "Widgets" on the Appearance Page and drag the navigation menu midget in the sidebar area. In the drop down of 'Select Menu', select your social menu and click 'SAVE'.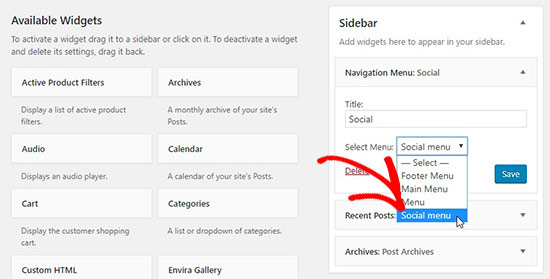 In just 8 steps, you are opening a whole new world for yourself to promote your business. So go ahead and establish your new venture with ease!