Bulk Delete Your WordPress Content With These Two Easy Solutions!
Let's face it, we have all had a change of mindsets and wanted to get rid of our online content on a bulk basis. A lot of the online platforms do not offer the liberty to delete content excessively, but does WordPress allow you to do that? With this guide, it absolutely does! You are probably familiar with how you can manage posts through the admin area but read on to find out how you can easily delete WordPress posts in bulk quantity.
Method 1: Bulk Deleting WordPress Posts Without the Use of a Plugin
With this easy method, you can conveniently delete your WordPress posts in bulk. You don't need any third-party help, as this method utilizes WordPress's own functionality in order to select a group of posts and delete them.
To do so, you need to head on to 'Posts' from the 'All Posts' tab. Once you are there, you can click on the bulk select box on top and select all the posts shown on the page.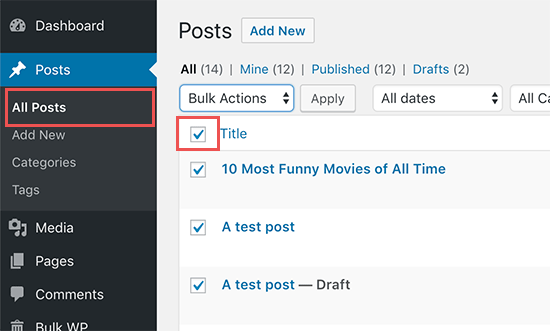 If there are some posts that you don't want to delete or keep for later, you can easily uncheck those and move the rest to the trash box with the 'Move to Trash' option in the 'Bulk Options' drop-down menu.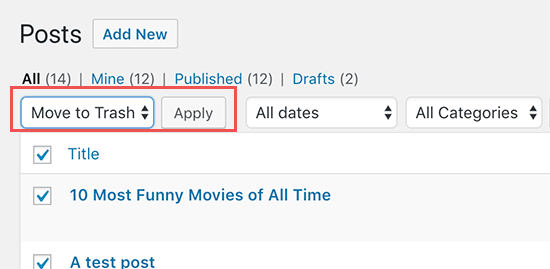 Once you're happy with your selection, click on 'Apply' to finalize the process. And voila, your posts are now deleted!
A small drawback of the aforementioned process is that you can only delete up to 20 posts at a time, as they're the ones displayed on the screen.
In order to delete more, just click on 'Screen Options' at the top right corner, and here you can find and alter the 'Number of items per page' to your desired quantity. Click 'Apply', and repeat the procedure we mentioned earlier.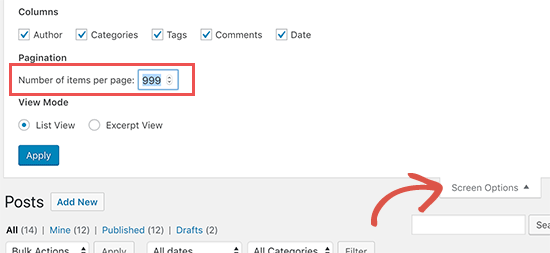 Bulk Delete Posts by Specific Author or Category
Quite often, you want to get rid of some posts under a particular category or tag or even a specific author. You can always select your desired author or category, and delete the posts filed under it.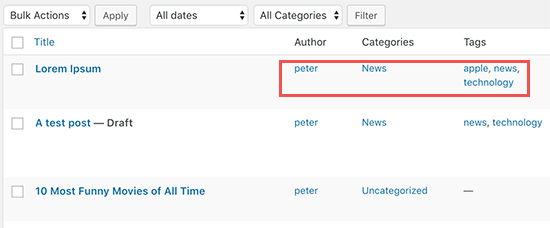 Just so you know, your deleted posts will remain in the Trash column for around 30 days, and will then be removed permanently.
Method 2: Bulk Deleting WordPress Posts With the Help of a Plugin
If the first method isn't feasible enough for you, you can always opt for the other one that requires a plugin.
First and foremost, you will need to download the Bulk Delete plugin.
Don't know how to install a WordPress plugin? Check out this informative guide and learn how to easily install your favorite plugins!
Once downloaded and activated, head on to Bulk WP and select the 'Bulk Delete Posts' option, which will take you to the admin area. Here onwards, you can filter and select posts that you want to delete.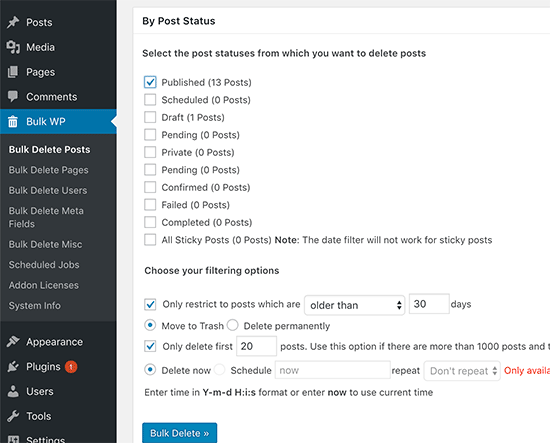 Plugins offer a bunch of options, like filtering posts by duration, deleting them instantly without sending them to Trash or even scheduling a time for later deletion.
If you need to find more options for categories, scroll down and you'll come across custom taxonomies, custom post types, and so much more.
And not just the posts, but you can also bulk delete pages, comments, custom fields, and users.
Hopefully, these methods will save the day and aid you whenever you need to bulk delete your WordPress content!